Owning a home is a big deal, so choosing the right mortgage is as important as finding the right house. Whether you're about to buy or are ready to renovate or refinance, we've got the mortgage products and friendly expertise you need to make it easier. We can also help you choose products that will improve your cash flow and protect your investment. We can help you choose a mortgage, or you can review our options then can contact us in branch, online or by phone to get the process started.
Online Mortgage Pre-approvals
A mortgage pre-approval is a great first step in your homebuying journey. By being pre-approved, you can confidently begin your house search.
By applying for a mortgage pre-approval* at Synergy, our goal is to provide you with a TRUE approval – this is so much more than a mortgage pre-qualification.
What makes this even more convenient? We'll be in touch with you quickly and no later than the next business day.
*Good to know:  If you are pre-approved with Synergy, it means that we have stated that you qualify for a mortgage loan based on the information you have provided and subject to certain conditions. Your mortgage pre-approval will specify a term, interest rate and principal amount. This is a helpful step, as it can give you a clearer picture of how much you may be able to afford.
---
How it works:
Start your online application now and receive your pre-approval amount along with a 120-day guaranteed interest rate.
If you are moving your mortgage to Synergy, make sure to ask about our Mortgage Switch program, which could save you up to $1,500 on the fees associated with moving your mortgage.
If you have more questions, our mortgage specialists will be happy to assist you.
Apply online
If you don't mind entering information on a secure platform and there are two or less applicants, this is a good choice for you.
*Please note, the application cannot be saved once you have started. It's a great idea to check out the "To help you get ready" section below.
Speak to a mortgage specialist
If you prefer to discuss your needs with a specialist, or if there are more than two applicants, this is the best path for you.
To help you get ready​

Here is information that will be required from you (and your co-applicant, if applicable) for your online pre-approval application or if you are coming into the branch to see us:
Basic information (date of birth, physical address, etc.)

Employer information,

Net worth statement,

Verification of income (two items of verification required). This includes:

One of:

last paystub, two months of direct deposit history, current letter of employment,

Plus, one of:

previous year-end paystub, most recent T4, most recent Notice of Assessment.

If you are self-employed or do not have these types of verification, please contact us for alternatives.

Down payment statement or letter stating where the funds are coming from for the down payment, as well as the length of time it has been available,

If you are not a Synergy member yet, two pieces of personal identification (such as your current/valid driver's license, provincial health card, birth certificate).
Limited Time 5-Year Mortgage at 2.14%

Ready to move? Are you looking at different mortgage options? We will pay up to $1,500 of the fees associated with moving your mortgage.
Personal Mortgage Products
Simplicity CMHC Mortgage
---
amortization up to 25 years
terms up to 7 years
competitive interest rates
a 20% annual prepayment option
multiple repayment options

Simplicity Mortgage
You've worked hard to save at least 20% to put down on your new home, so you deserve a straightforward, no-nonsense mortgage that offers you the lowest rate and most flexible terms. This is what you get with our Simplicity Mortgage, as well as:
---
amortization up to 25 years
terms up to 7 years
competitive interest rates (fixed or variable rates)

a 20% annual prepayment option
automatic transfers or self-service payments
multiple repayment options
the option to re-advance on the anniversary date of your mortgage

Synergy Super Mortgage CMHC
Getting a mortgage is an ideal time to build in flexible options you might need now or in the future for things like renovating or consolidating finances. Designed for home buyers starting with a down payment of less than 20%, the Super Mortgage CMHC sets you up for success from the start and makes it simple to adjust your payments to fit your needs. It also offers:
---
the option to pay as little as 5% down
competitive interest rates
no prepayment penalties
automatic transfers or self-service payments
multiple repayment options
multiple fixed rate options
a term of up to 25 years
Synergy Super Mortgage
If easy access to additional funds at mortgage rates sounds good to you, consider our Super Mortgage. Once your pre-approved limit is set, you can request funds by phone, email or in-person and use them to make non-mortgage purchases at mortgage rates. You can also split your credit limit into five sub-loans to help you manage where the money is being used. You also get:
---
fixed or variable terms on your mortgage or sub-loans
competitive interest rates
20% annual prepayment option on a fixed term
no prepayment penalty on variable rate loans
choice of blended (principal plus interest) or interest-only payment option
multiple repayment options
Synergy Open Mortgage
If you want to pay off your mortgage as quickly as possible, our Open Mortgage could work well for you. With no maximum limits on the amount you pay and no prepayment penalties, this product can get you mortgage free faster. If at any point you'd like to convert it to a different Synergy mortgage product, it's simple to do. With the Open Mortgage, you also get:
---
down payment options that start at 5%
competitive interest rates
1-year fixed rate term OR 3-year variable rate term
automatic transfers or self-service payments
multiple repayment options
a term of up to 25 years
CMHC's role in purchasing your home
Planning to buy a home can be one of the most exciting times in people's lives and understanding the role of CMHC can help you better prepare.
Personal Construction Mortgage
If you're planning on building or purchasing a ready-to-move (RTM) home, our Personal Construction Mortgage flexes to your needs as they arise during each phase of your build, advancing a percentage of funds as inspections are approved. When your dream home is finished, you can switch to a Synergy mortgage with amortizations of up to 25 years. It also offers you:
---
interest-only monthly payments during the construction period (up to one year)
the option to pay as little as 5% down
competitive interest rates
automatic transfers or self-service payment
multiple repayment options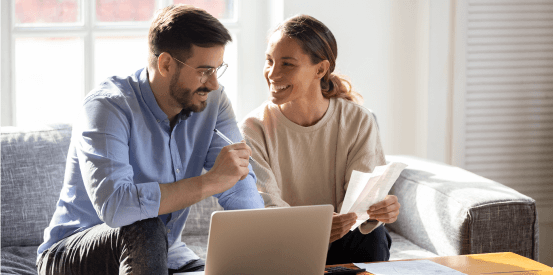 Owning A Home

Are you better off with a Simplicity Mortgage or a Super-Mortgage? Wanting to get more with your mortgage? Take a deeper dive into these types of questions in our blog.
Benefits of connecting with an expert
Whether you're applying for your first mortgage, renewing, switching or refinancing, our mortgage team can help. As local experts, they understand the unique challenges of buying and owning a home in your community and will work hard to help you get the mortgage product you need.
You may also be interested in