You matter to us and where you live matters to us, too. This is why we invest in your community and do all we can to strengthen you, your family and your business financially. We do this by offering products, tools and services to help you prosper. We put our money where our mouth is by offering sponsorships, donations and scholarships. We also get involved in the things you care about and strive to be a good corporate citizen that genuinely lives the cooperative principle of improving the quality of life in the communities we serve.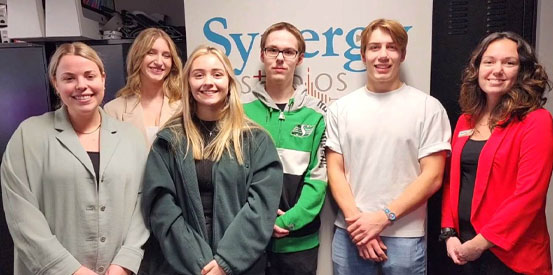 "Loving Local" Design Competition
Synergy collaborated with students at Holy Rosary High School, Lloydminster, to create a fresh and engaging graphic to be used as Synergy's Annual Report Cover for 2022 (to be printed in 2023) and other key marketing pieces like the annual Synergy calendar, website, and social media.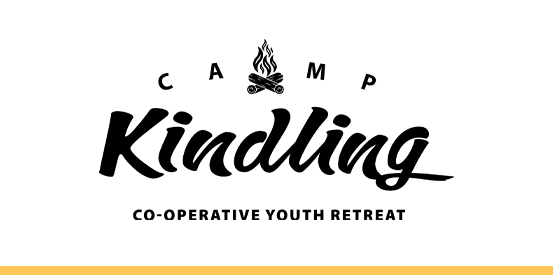 Saskatchewan Co-operative Youth Retreat
Camp Kindling (also called the Saskatchewan Co-operative Youth Retreat/SCYR) is specially designed for Saskatchewan youth ages 12 to 18. The aim of the program is to contribute to the personal development of youth and encourage their active involvement in community and co-operative organizations. We're proud to support youth in our communities as they experience personal growth that results from participating in SCYR.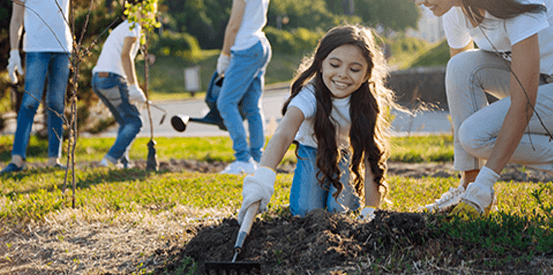 Volunteering
Giving back to our communities is a value and commitment that guides us every day, whether it's providing financial support to groups or organizations or showing up ready to work at local events in the cities and towns that we serve.

Events
It was great to be able to get out in the communities we serve. Take a look at some of our fond memoires of a few of the past events we attended or hosted and causes we have supported so far this year.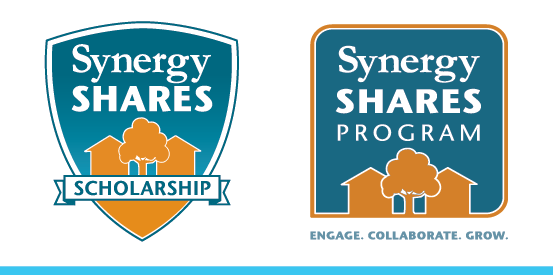 Synergy Shares

We're proud to be a local financial institution that is deeply invested in the communities and people we serve. One of the ways we show this commitment is by sharing our profits through projects and scholarships to make life better where we live.
Second Bounce Documentary
Health is about more than physical wellbeing. Even for elite athletes. Second Bounce, a documentary produced by Two-Fold Productions, will peel back the layers of the journey of the Lakeland Rustlers Women's Basketball team in 2022. Personalities connect and collide as a diverse group of female athletes battle personal obstacles post-pandemic as they defend their title and vie for redemption at nationals.
We are committed to the increased financial and mental wellbeing of our members and community, and we see this as an opportunity to highlight that message through the incredible storytelling involved in Second Bounce. 
"It is another way for us to reach our members and non-members with the message to make sure you are taking care of yourself in a holistic manner – mentally, physically, financially. It all matters," said Synergy CEO Glenn Stang.
Synergy Shares Highlights
Through our unique Synergy Shares Program, we invest in our communities and fund tools to support projects that improve community value, health care, financial literacy, and enhance local initiatives. Our staff members are passionate volunteers who extend everyday acts of kindness as part of their jobs.
Each year up to 5% of Synergy's pre-tax profit will be set aside to fund this valuable initiative. This year, Synergy committed just over $1 million into the communities we serve through the Synergy Shares program.
2021 DONATION HIGHLIGHTS:

$200,000: Lloydminster Catholic School Division expansion project, including the new Indigenous Resource Centre and the Synergy Studios multimedia classroom.
$40,000: The Synergy Aquatic Centre in Macklin.
$10,000: The Macklin & District Fire/Rescue towards their rescue tool replacement project.
$50,000: Lloydminster Region Health Foundation's Gift to Health, which is earmarked for a Mobile Digital Radiography Unit.
Read more on how Synergy Credit union is helping to build sustainable communities on page 20 of our 2021 Annual report.
Let's Get Social
Check out more of great things we are doing to help our members and the communities we serve. And, while you're there, why not join us on social?
"I was raised in a small prairie town and grew up depositing at my local credit union. From special birthday money to my first pay cheque, the credit union played an important role.
When I moved to this market, I looked for a credit union. Synergy has treated me with respect and dignity from day one, and I've never forgotten it."
Financial Literacy for Everyone

We actively connect with any group that is looking to improve their financial literacy. Our presentation is relaxed and interactive. It can be tailored to educate people of all ages and backgrounds, including youth groups, seniors homes, families, parents, school boards and college open houses. Led by our Synergy Emerging Leaders, the presenters keep audiences of all sizes and ages interested and engaged.

Topics covered include:
budgeting basics
loan basics
boosting your credit score
protecting yourself from identity theft
managing the impact of inflation and much more
If you're not able to attend a session in person, but are still interested in learning more about how to improve your financial literacy, sign up for a free, interactive online session at our
'It's a Money Thing' Academy
.
Request a presentation
Show us where you feel at home!
Hey members! Have you sent us your local snapshots yet? Help us make your new digital house feel like home by sending us your local photos and you could be featured on our new website.
You may also be interested in: