Your definition of wealth is unique, so how you plan to achieve it should be too. This is why we offer multiple ways to help you understand your money and reach your goals. Our highly skilled financial advisors can help you build and sustain a plan customized to you.
Wealth Management
Money flows through every aspect of your life, so learning how to manage it is essential to your success. To help you achieve this success, we offer free access to financial experts who look beyond your numbers and empower you to make decisions that align with what matters to you most. Whether you're a seasoned investor or just getting started on your wealth-building journey, we offer one of the widest range of investment options in the industry and have the people and products to help you grow. They are on site to help you with:
---
Investment planning
Retirement planning
Education planning
Tax planning
Estate planning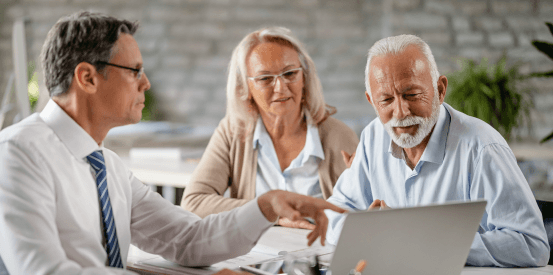 What is wealth management?
The reality is 'wealth management' isn't only for the wealthiest people who have vast fortunes to pour into investing.
Estate Planning
Your estate is everything you own today - your car, home, savings, investments, life insurance and even your personal possessions. So no matter where you may be on your financial journey, you have an estate that needs protecting. There are four main elements of estate planning:
---
Will
Power of Attorney
Distributing your estate
Planning how you want things handled in the event of the unexpected assures you that your wishes will be carried out with the least amount paid in legal fees and taxes for both you and your heirs
Estate Planning 101
We understand that no one looks forward to planning their estate. We also know how important it is to you and your family that it's done right.
Benefits of connecting with an expert
Synergy experts live and work here.
They understand your challenges and opportunities.
Our experts have the skills and training to tailor innovative solutions to your unique financial needs.
How do you want to

Grow

  your money?
If you prefer a self-serve approach, we also offer simple and secure online trading and virtual investing services. It's not about how much you have, either. At Synergy, it's all about you and how you want to grow your money.
Whether you're a seasoned investor or just getting started on your wealth-building journey, we've got people and products to help you achieve your personal financial goals. We take the time to understand who you are and what you want to achieve and then put together a plan that fits.

We offer investment options that can be tailored to meet your needs. This robust service is possible because of our partnership with Aviso Wealth Inc., a cooperative system-owned wealth management organization. Our talented local experts are mutual fund licensed through Credential Asset Management Inc. or full securities licensed through Credential Securities. They are on site to help you with:
investment planning
retirement planning
education planning
tax planning
estate planning
Write your own future.

You've got goals. For your future. For your family's future. Pursue them with the confidence that comes from expanded investor knowledge and expert insights. And from tools that help guide your investment decisions.

We've partnered with Qtrade Direct Investing™ to give you the confidence to buy and sell stocks, bonds, exchange traded funds (ETFs), and mutual funds - with low trading fees.
Realize opportunity with industry-leading tools. Whatever your level of investment experience, build, evaluate and test your portfolio with calculators, and tools like Portfolio Creator™, Portfolio Score™ and Portfolio Simulator™, which feature the industry's most advanced risk analysis and portfolio-building technology.

The key to investing confidence is in your hands. Qtrade can help work toward your financial goals today.
Open an account
.
Not ready to commit? Take Qtrade for a spin with a 30-day free trial account.
Sign up
.
Just answer a few questions online to generate a low-cost portfolio matched to your goals and investing style. All you have to do from there is open your account and VirtualWealth does the rest.

If you're not sure about working with a 'Roboadvisor', not to worry. While VirtualWealth leverages the very best in financial technology to make the process seamless for you, there are real experts behind the scenes. They're experienced portfolio managers, registered representatives and technology specialists who will:
continuously monitor your performance and rebalance your portfolio
keep you on track towards your financial goals
grow your wealth while you get on with your life
Your portfolio will diversify your investments across geographies, sectors and industries, including Responsible Investing (RI) screened for environmental, social and governance (ESG) performance. The entire process is 100% paperless, secure and designed to make investing as efficient and affordable as possible.
Are you ready to retire?
Retirement means different things to different people. No matter how you envision your retirement, the best way to make it a reality is to develop a plan and get the support you need to stick to it.
You may also be interested in: