What do pliers, remote controls and the evolution of leading-edge financial services have in common? Problem-solving, innovation and life-changing convenience, that's what.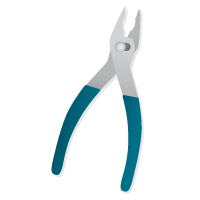 Way (way) back in the day, there was only one way to change the channel in living rooms across Saskatchewan. And that was with a plastic knob that routinely snapped, fell off, busted, etc. Not to be outfoxed by cheap inefficiency, TV enthusiasts solved the problem with common sense and a pair of pliers. If not for that innovative toolbox technology, they'd have been stuck with just one channel! Pliers made it possible to switch between the Brady Bunch, Hogan's Heroes and Gun Smoke with minimal hassle. Aside from the occasional blister, this was personal technology at its finest.
Then along came some other geniuses to elevate this hand-held technology with a wired remote control. Usually referred to as "the clicker", this new technology was roughly the size of a lunchbox. And it changed the way we watch television. The clicker kicked off the era of the couch potato and transformed our living rooms into full-time relaxation stations. Comfy couches and La-Z-boys replaced stiff, plastic-covered chesterfields and Dad's pliers were returned to the toolbox or the junk drawer in the kitchen.

Fast forward a couple of decades. The clicker was replaced by a hand-held device dotted with finger-tip-sized buttons. The Brady Bunch was out, and The Fresh Prince of Bel Air, Seinfeld and Friends were so in. As the 90s pushed into the 2000s, there was a remote control for every gadget in your entertainment center. There was one remote for the TV, another for the VHS, yet another for DVD, one more for the combo VHS/DVD player and a little one for that state-of-the-art six-CD-changer. It was a battery-powered cornucopia of remote controls!
As for our modern-day remote control, buttons have disappeared entirely into the smooth touchscreens of our smartphones thanks to a beautiful technology we like to refer to as the genius offspring of clickers and computers. This tiny Einstein can do so much more than change channels. It's a palm-sized computer that can control your entire entertainment system. You can use it to adjust room temperature, open the garage door and turn on your sprinklers. With just a few taps on the screen, you can order dinner, get groceries delivered, pinpoint your kids on a virtual map and give actual instructions from your face. All while you make a phone call, type a text, scroll through your Instagram feed, or send an INTERAC e-Transfer® to pay for that excellent Facebook Marketplace find.
®Interac e-Transfer is a registered trademark of Interac Corp. Used under license.

Speaking of e-Transfer, the digital ingenuity of the smartphone has had a massive impact on how money works in our lives, too. Wherever we may be on our financial journeys, our phones are right there with us in much the same way we use computers to do our banking. We can use it to make purchases, pay bills, send money, deposit cheques, open an account or apply for a loan.  All from the palm of our hands at any time of day and from any internet-connected place.
For those of us who have multiple saving, spending and borrowing accounts - like a loan, line of credit or mortgage from one place and investments, credit cards, and several chequing and savings accounts from others - our smartphones have become powerful mini-portals to help organize our financial lives. But while all of this is secured by multiple passwords, two-step verifications and facial recognition, tracking and tallying up what you earn, own and spend with so many different apps can be tricky.
Some of us have tried to get a handle on this by using third-party budgeting, wealth management, credit reports or debt reduction apps to pull it all together. But by doing this, we unintentionally share our personal data. Imagine your little financial footprints walking around out there in the digisphere. Who controls where they go or who can see or follow them? It hurts the brain to think about it. As for these 'super apps', they serve a valuable purpose. But since there's little or no integration between them, you can never quite see your whole picture. Like all those remotes collecting dust on your coffee table, they each do something different to empower you financially, but it lacks a collective effort to simplify your life. Wouldn't it be great if there was just one no-nonsense tool that did it all for you? Like pliers but with infinitely more convenience and function.
FOLLOW OUR STORY! WIN BIG!
Correctly answer question 3 for a chance to win our biggest prize yet - a Meta Quest 2 VR headset with Touch controllers!

Huzzah! We have made it so! Meet our Money Manager, new financial technology that makes everything make sense. You might be thinking, "Great. Another bank app to add to my already massive collection." That is a fair point but pause the pessimism for a sec, because this is not just another banking app. Like, not at all.
Money Manager is a single, integrated system that allows you to see, manage, and understand your money from one place. Whether you're a conscientious planner or an optimistic dreamer, have one account or a baker's dozen, this innovative tool lets you see and take control of your money from any or all of your devices, whether it's a smartphone, tablet or computer. And here's the new, really nifty thing: Money Manager literally evolves around your specific financial needs, putting those little digital footprints to good use but only with your express permission. More control, greater simplicity, and improved privacy. Only the very best for you!
Want to know more? We're dying to tell you. Here goes!
Money Manager is only the beginning of what's possible when using digital technology to integrate and control your financial life. What's even cooler is that the more you use it, the clearer your insights become about how your money is working for you.

Haven't we been dreaming of convenience like this since The Jetsons aired in 1962? Let's pop back in time real quick to reminisce. There we sat, pliers in hand, glued to the boob tube, watching little Elroy zip around the galaxy with his jet-powered backpack while mama Judy stayed home and 3D-printed supper for the rest of the gang. Even the Jetsons couldn't have predicted a future where we could see, understand, manage, and control our financial lives with a swipe of a finger. Not even Captain Kirk and the Starship Enterprise gang could have imagined a mobile technology that could help us 'boldly go' toward that "final frontier" of financial control and freedom that we all aspire to down here on planet earth.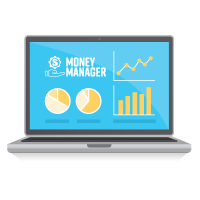 Money can't buy happiness but having a sense of control over it sure makes it easier to sleep at night. Money Manager gives you this control with an easy-access control panel that offers you a real-time view of your finances and goals. Plus, did you know that having a clear-eyed view of what you've got versus what you spend can literally boost your well-being? That is some verifiable truth there, friend.  Science says empowering perspective will very likely put you in the 'sweet spot' for a happier life.1 Not the made-up television sitcom variety, either. But real, honest-to-goodness "I'm doing pretty okay" satisfaction.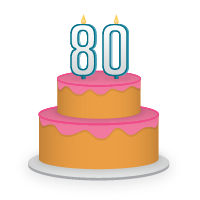 While Money Manager is our latest innovation, financial technology is a tool we've been actively evolving at Synergy for the past 80 years. Well almost. We actually celebrate our 80th birthday in 2023. Happy birthday to us! We're officially octogenarians! We've proudly been serving the people of Saskatchewan since 1943, living and working in our communities as a member-owned financial service provider that stays open, keeps its promises, and constantly innovates to make your financial life easier. Doing this throughout our province for the past eight decades is our proudest achievement as a credit union. To celebrate, we're already planning what we can do to help you live your best financial life for the next 80 years.
No matter how many birthdays we have, two things will never change about Synergy. Firstly, everything has always been and will always be about you. This includes how we use and share our profits. And when we say "our", we're referring to our fantastic membership and communities, not a tiny handful of (ahem) already wealthy shareholders. Secondly, we'll never stop finding new ways to help you manage and grow your money.
Kind of like how the clicker replaced the pliers, our purpose has always been to simplify things, offering you increasingly innovative tools to write your own financial success story. This means we're continually creating, evolving, and adopting solutions that will benefit you in-branch, online and right inside that smartphone of yours.
So how about that Money Manager platform? Are you ready to grab these new-fangled, technology-powered pliers to experience a whole new level of financial control and convenience? Of course, you are! Let's do this thing!
FROM OUR FIRST ATM TO OUR LATEST APP
Since day one we've been driven by innovation, making your financial life easier.
Past. Present. Future... Financially Forward.
You may be interested in...